FB Investors has been partnering with operating managers to acquire and invest in private businesses since 1986.
Our investment performance is reflected in the fact that the vast majority of our co-investor partners, some of whom were operating partners in prior deals, have been investing with us for over 15 years. We've learned plenty of lessons over 3 decades and we'll learn plenty more. Our discipline, patience and experience has resulted in zero losing investments since 2003. We may not knock the cover off of the ball every time, but we win more than we lose.
In addition, all of our transactions are handled exclusively by the partners as we have no associates on staff. Along with our long-time investor partners, FB Investors is capable of and has invested in or acquired both large (> $50 million valuations) as well as smaller (< $10 million) companies. If you'd like to learn more, we're happy to arrange a call or visit, with no expectations, to discuss your goals and your business, as well as share our backgrounds.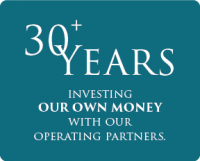 Why We're Different…
Majority or Minority Ownership:  When we find a business that meets our criteria, we're happy to buy the entire business or acquire meaningful minority stake. We acknowledge that we think a bit differently than PE funds on ownership percentage. But from our perch, investing our money in partnership with the founder gives us great comfort.
Leverage:   We see no benefit in over-leveraging our business just to force a slightly higher return on our capital. From our perspective, we'll accept the marginally lower return on our capital in exchange for securing the future of the business.
It's our money:  The principals of FB Investors contribute a substantial portion of the investment in every transaction. This approach varies dramatically from the General Partners in a PE fund who typically contribute 1%- 2% of the capital. In the simplest terms, we do what we do to invest our own money. We also invite the operating managers of the businesses we acquire, along with seasoned, but passive investment partners, to invest with us so we can do more and larger transactions. With so much of our own money invested, we simply aren't inclined to take excess risk.
Capital Structure:  With individual investor and family office money instead of a fund, we're able to accommodate more creative transaction structures. In addition, the day-to-day operating managers of our businesses invest in the same security and at the same price as we do. This tactic aligns management's interests with ours. After all, our money is the same color green as their's.
Exit Timing:   Any decision to exit an investment is based on circumstances and is definitely not governed by a calendar.  It's not easy finding a solid business that meets our criteria and therefore, when we do find one and it continues to perform, we're certainly in no hurry to sell it. Further, with a long-lived source of reliable capital and no requirement to raise capital for the "next fund", there's no need to sell quickly to show outsized IRR's to support fund raising.
Transaction Fees:   They exist, but at nowhere near the level our peers charge.  We rely heavily on the investment return to reward us for our judgement and effort.
Our Investment Criteria is Guided by Certain Business Models Attributes
When and Why Business Owners Look To Us
What Does FB Investors Offer?
For Sellers: An opportunity to place your business, your life's work, in the hands of tenured, dedicated and thoughtful investors who are driven by developing your business, not by how fast they can exit and get to the next one.
For Companies Looking for Growth Capital: An opportunity to get where you're going a bit faster than you can get there on your own with a tenured team of senior partners.